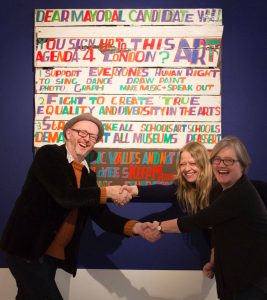 There are two Green Assembly Members in City Hall – Sian Berry and Caroline Russell.
They were elected in May 2016, taking over from Darren Johnson and Jenny Jones who had both represented Londoners on the Assembly since the very first elections in 2000.
Here you can read the latest news from Sian and Caroline about their work on behalf of Londoners.
Latest publications:
The Mayor is proposing to close all but one police front counter in each borough. Sian's response says this is too drastic and recommends:
assessment of individual front counters and local police bases, looking at the views of officers and the wider value to the community, including whether the removal of a facility will lead to a high street or community losing its last public service contact point
for the lost property functions carried out by the police, consider moving these officially to TfL to increase efficiency overall within the GLA (this would need careful communication)
for any buildings and land sold off, the maximum possible provision of social housing – ideally a guaranteed 50 per cent across the sites.
Caroline Russell's response to the Mayor's proposals for a limited Ultra-Low Emission Zone for inner London calls for big changes to give clean air to all Londoners:
We say the Mayor's plans need to:
aim for all Londoners to breathe safe air within EU limits for nitrogen dioxide by 2020 or sooner
consult on a London-wide Ultra Low Emission Zone (ULEZ) for all vehicles
base the diesel ULEZ standard on independent 'real world driving' emission tests
use World Health Organisation guidelines for the diesel ULEZ particulate matter standard
Improve public transport, pedestrian and cycling provision, especially in outer London.
Sian Berry's response to the Mayor's draft 'best practice guidance' on estate regeneration. She says the draft is useless for residents wanting to influence what happens to their homes. The key problems are:
no ballots required – residents need a final say as a prerequisite to engaging with the council in good faith
no support for resident-led plans
no clarity on how the guidance is to be used – with confusion between funding and planning processes.
Sian's response sets out a clear alternative process, with conditions for funding and planning permission that need to be fulfilled by councils.
Sian Berry has been investigating youth service cuts since being elected and has updated her initial figures in this report to show the latest round of council cuts in more detail.
In total this shows that London council youth services have lost nearly 500 full-time staff and £36 million in funding cuts since 2011.
Sian is calling on the Mayor to help with an increase in support for youth centres and services by expanding his London Crime Prevention Fund.
More publications: