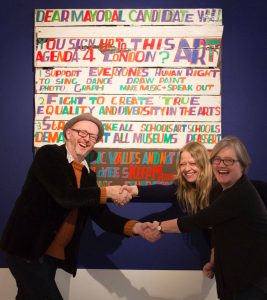 There are two Green Assembly Members in City Hall – Sian Berry and Caroline Russell.
They were elected in May 2016, taking over from Darren Johnson and Jenny Jones who had both represented Londoners on the Assembly since the very first elections in 2000.
Here you can read the latest news from Sian and Caroline about their work on behalf of Londoners.
Latest publications:
Caroline Russell's response to the Mayor's proposals for a limited Ultra-Low Emission Zone for inner London calls for big changes to give clean air to all Londoners:
We say the Mayor's plans need to:
Aim for all Londoners to breathe safe air within EU limits for nitrogen dioxide by 2020 or sooner
Consult on a London-wide Ultra Low Emission Zone (ULEZ) for all vehicles
Base the diesel ULEZ standard on independent 'real world driving' emission tests
Use World Health Organisation guidelines for the diesel ULEZ particulate matter standard
Improve public transport, pedestrian and cycling provision, especially in outer London
Sian Berry has been investigating youth service cuts since last year and has updated her report to show the latest round of council cuts in more detail.
In total the new report shows that London council youth services have lost nearly 500 full-time staff and £36 million in funding cuts since 2011.
Sian is calling on the Mayor to help with an increase in support for youth centres and services by expanding his London Crime Prevention Fund.

Our recommendations for improvement to the Mayor's Police and Crime Plan are based on visits to community groups and campaigners across London.
They include:
Fundamentally reform how undercover police are managed and held accountable, and do more to improve officer confidence in whistleblowing processes within the service
Push hard for the devolution of more aspects of criminal justice to show victims and the wider community more consistency in prosecutions
Invest in youth work for real crime prevention and to help young Londoners thrive
Adopt a more evidence-based and consistent approach to education about knife crime and violence
Improve on plans for more local policing by doing more to support ward panels and community groups such as neighbourhood watch
Task ward officers with helping residents avoid scams and fraud carried out online, and investigating these crimes where they have a local connection
Fully fund the implementation of the Violence Against Women and Girls Strategy, and protect specialist services for diverse groups of women
Improve training for officers who deal with the public to help people with mental health problems and dementia
Take more positive action to improve diversity in the MPS more quickly, in particular for the new Police Now graduates and direct-entry inspector and superintendent scheme
Address inequalities in how different groups are treated by the police, with a particular focus on winning back the confidence of young BAME Londoners.